July 20, 2020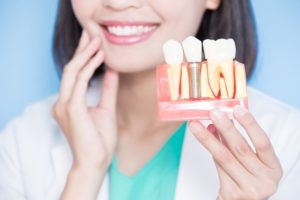 When it comes to replacing your missing teeth, you have several options to choose from. However, one is quickly becoming the most popular way to rebuild beautiful, functional, and complete smiles: dental implants. Over three million people have already benefited from this modern tooth replacement option, and about 500,000 restorations are placed every year! What sets them apart from more traditional means of replacing teeth like dentures or dental bridges? Read on to learn seven benefits you can enjoy from dental implants in Marble Falls that you can't get with other options!
1.) Exceptionally Lifelike Appearance
Each dental implant is custom-made to mimic the shape, size, and color of the natural teeth that surround it. They're crafted from a material called dental porcelain, which is well-known for how closely it resembles healthy enamel. Once placed, most patients are happily surprised that their dental implant is indistinguishable from the rest of their smile!
2.) Unmatched Comfort
As dentures and dental bridges wear down and lose their fit, they can cause discomfort and feel like they're about to fall out at any moment. Dental implants on the other hand become a part of you by fusing with your jawbone. You'll never feel them slip, shift, or pop out of place when you eat, talk, or laugh. Additionally, they put no extra pressure on your gums, surrounding teeth, or jaw joints.
3.) Improved Biting Force
With such a firm foundation in your jawbone, you can confidently continue to keep eating all your favorite foods with a dental implant. They can restore 80% or more biting force, which means you'll be able to comfortably eat steak, corn on the cob, apples, carrots, taffy, and anything else on your plate!
4.) Designed to Last a Lifetime
After five to 15 years of use, dentures and dental bridges need to be replaced or repaired. Not only is this inconvenient, but it can become quite costly over time. Dental implants are designed to be extremely durable and can easily last you a lifetime with the proper care.
5.) No Special Care Required
You don't have to change your daily dental routine to accommodate for your new dental implant. The best way to keep it clean and healthy is to brush and floss it daily along with the rest of your teeth. Simple yet effective at-home oral hygiene is all that's needed to keep it beautiful and functional for decades to come.
6.) Able to Prevent Bone Loss
Without the support of your missing tooth's roots, the jawbone begins to shrink away and your facial features start to look sunken and aged. Thankfully, the titanium post that anchors your dental implant in place replicates the missing roots. This stimulates blood flow and prevents bone loss and premature aging.
7.) Promotes a Healthier Smile
Overall, dental implants are the healthiest way to restore your smile. They don't require altering healthy teeth and won't lead to gum irritation or jaw soreness. What's more, since they're easier to keep clean, they also lower your risk of oral health issues and the systemic problems that are linked to them, like tooth loss, respiratory infections, and heart disease.
With so many unique benefits, it's easy to see why dental implants are becoming so popular! Talk to your Horseshoe Bay dentist to discover if this state-of-the-art tooth replacement option is right for you!
About the Author
Dr. Gregory Sopel of Horseshoe Bay Dental has nearly 40 years of experience in oral health care. His goal is to make achieving a healthy, beautiful, and complete smile an attainable goal for everyone. That's why he's proud to offer the latest in tooth replacement technology and techniques, including CEREC guided implants and mini-dental implants. Regardless of how many teeth you're missing, he can restore your full set of pearly whites right here in his Horseshoe Bay, TX practice and ensure the entire process goes as smoothly as possible. If you'd like to see if dental implants are right for you, he can be contacted via his website or at (830) 598-5474.
Comments Off

on Why Are Dental Implants So Popular?
No Comments
No comments yet.
RSS feed for comments on this post.
Sorry, the comment form is closed at this time.