July 7, 2020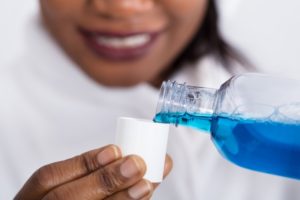 The COVID-19 pandemic has changed how many aspects of everyday life work, including your dental appointments! In order to keep everyone as healthy as possible, your Marble Falls dentist has established new COVID-19 infection control protocols. You'll be asked to take a few extra precautions before your appointment, like rinsing with a specialized mouthwash. Read on to learn more about this new step in your routine dental visits during the coronavirus pandemic.
What Is an Antimicrobial Mouthwash?
The oral rinse your dentist will ask you to use before your appointment may look much like one you could buy at your local grocery store. However, store-bought mouthwashes are usually antiseptic, while the professional product from your dentist is antimicrobial. There are several key differences between the two:
Antiseptic mouthwashes clear away bacteria and reduce your risk of oral infections with alcohol, fluoride, and other antiseptic ingredients.
Antimicrobial mouthwashes use powerful, specialized components to inactivate or kill dangerous particles like fungi, bacteria, parasites, and viruses in the mouth.
Will Rinsing with Antimicrobial Mouthwash Burn?
Do you avoid using mouthwash because of the burning sensation it can cause? If you find oral rinses uncomfortable to use, you may be concerned about rinsing with an antimicrobial mouthwash. Thankfully, even though they're more powerful than over-the-counter oral rinses, an antimicrobial mouthwash won't cause more discomfort. Instead of relying on alcohol, which causes the stinging feeling, they use activated chlorine dioxide to eliminate microbes and clean your mouth comfortably.
Does Using Mouthwash Prevent Getting Sick from COVID-19?
Health experts around the world agree that social distancing is the best way to protect yourself from COVID-19. Since there is currently no vaccine or medication for it, it's essential that you limit your exposure to the coronavirus. If you do get sick, a strong immune system will help your body naturally fight off the virus.
Neither antiseptic nor antimicrobial mouthwashes have been tested against COVID-19, and they are not recommended as adequate protection from it. Instead, these products have proven to be incredibly effective in eliminating oral bacteria and combating dangerous infections like gum disease. These issues can be a major threat to the rest of your body, which leaves your immune system more vulnerable to viruses like the coronavirus. Using mouthwash to treat these oral health problems keeps your immune system strong and ready to fight off infected particles. In the end, eliminating any potentially dangerous particles from your mouth is a worthwhile extra layer of safety, especially before receiving dental care!
COVID-19 may have changed what your normal dental visits look like, but it hasn't changed your dentist's commitment to your wellbeing. If you need to visit them for care during the pandemic, you can feel confident that they are taking every precaution to keep you and your smile healthy.
About the Practice
At Horseshoe Bay Dental, we have always been proud to put your health, safety, and comfort above everything else. Typically, we are committed to showing this with truly excellent dentistry, a caring approach, and state-of-the-art treatments. In order to continue to put your best interests first, we will be asking you to take a few extra precautions before your next appointment as part of our new COVID-19 safety protocols. If you'd like to learn more about what to expect or our Commitment to Safety, feel free to contact us via our website or at (830) 598-5474.
Comments Off

on Why Is My Dentist Asking Me to Rinse Before My Appointment?
No Comments
No comments yet.
RSS feed for comments on this post.
Sorry, the comment form is closed at this time.