April 9, 2020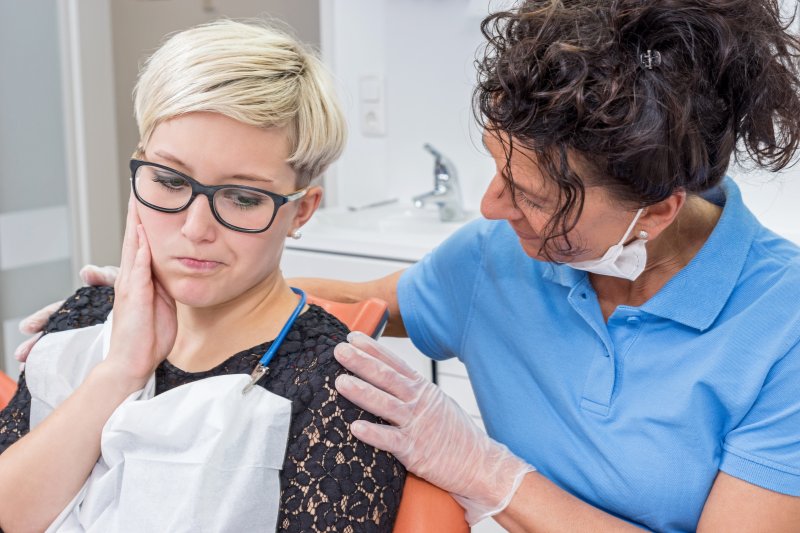 Dealing with a dental emergency is never fun; however, throw in a global pandemic that is keeping your local dentist's office closed, and the situation proves to be much more challenging than originally thought. Because of COVID-19, hospitals are overrun with sick patients and many dental practices are only seeing patients with severe oral injuries, so what should you do if faced with a chipped tooth, extreme tooth pain, or a soft tissue injury? An emergency dentist in Marble Falls explains when you should seek immediate help and why it's best to avoid the ER as much as possible.
How to Know When You're Experiencing a Real Emergency
Under normal circumstances, any type of tooth or mouth-related pain would warrant a visit to your emergency dentist. Unfortunately, COVID-19 is making that a bit more challenging. Dental teams are now providing step-by-step instructions for patients to care for their non-urgent injuries at home and only scheduling appointments for those facing extreme situations.
But how do you know if the problem you're facing is severe enough to warrant a visit to the dentist's office? There are a few scenarios that will have you leaving your house and seeing a professional. These include:
A knocked-out tooth because time is of the essence if you want to avoid losing the tooth
Extreme tooth pain that is the result of an abscess or serious infection
If you believe a chipped tooth, lost crown or filling, or even a busted lip should be seen by a dentist, you're not wrong. However, at this time, these are common problems that can be handled at home until it is safe for your dentist's office to reopen.
Why Is It Better to Visit the Dentist Instead of the ER?
If you are facing one of the two scenarios that require immediate dental care, you may be wondering why it's not just better to go to the emergency room instead. After all, this would free up time for your dentist to see another patient, right? This type of mindset is very dangerous right now, and here's why:
Your local hospital/emergency room is filled with sick people. If any have COVID-19, you are extremely vulnerable to contracting the virus and potentially spreading it to others.
Doctors and nurses are moving rapidly to take care of those who have the virus and require hospitalization.
An emergency dentist is better equipped and trained to handle your dental injury and will be able to provide start-to-finish treatment.
Whether you are dealing with a knocked-out tooth or a minor toothache, don't be afraid to call your dentist's office. Even if you cannot receive immediate help, their team will be available to walk you through the appropriate steps to ensure the safety and health of your smile.
About the Author
Dr. Gregory R. Sopel attended Tufts School of Dental Medicine and achieved his doctorate before pursuing a General Practice Residency program while in the United States Army, working at Irwin Army Hospital in Fort Riley, KS. He spent 27 years in the military, and he served as a Lieutenant Colonel. As a prominent emergency dentist in Marble Falls, he is currently only seeing patients who are dealing with serious dental crises. The reason is due to the global COVID-19 pandemic. However, he and his team are available to answer your questions and address any concerns as it pertains to your oral health, so don't hesitate to contact us via the website or by calling (830) 598-5474.
Comments Off

on Should I Visit the ER or an Emergency Dentist?
No Comments
No comments yet.
RSS feed for comments on this post.
Sorry, the comment form is closed at this time.