December 12, 2019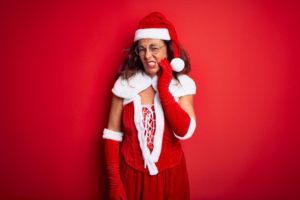 Accidents happen. Knowing what to do when a dental emergency strikes is imperative when it comes to saving your tooth. So, whether you have a toothache from all the holiday treats, or you trip over some presents on the ground and knock your tooth out, it's crucial that you know how to handle the situation. The first thing you should do is always call your emergency dentist in Horseshoe Bay, but in the meantime, here is how to deal with some common dental emergencies.
Knocked-Out Tooth
The most important thing is that the tooth stays wet. The best way to accomplish this is by placing the tooth back in the socket. Gently pick it up by the crown (the part that's normally visible in your smile) and not the pointed root. If you're having trouble inserting the tooth back into the socket, hold it in your mouth between your cheek and gums. Alternatively, you could store it in a container of milk until you get to the dentist's office.
Cracked Tooth
First, clean the area by rinsing your mouth out with warm water. To keep any swelling down, apply a cold compress to the appropriate cheek for 10 minutes on, 10 minutes off. Take over-the-counter pain medications if needed.
Bitten Tongue or Lip
Gently clean the area with water and hold a cold compress to it. Again, take your choice of store-bought pain medications as directed on the bottle.
Toothache
Rinse your mouth out with warm water to dislodge any food debris that may be stuck between your teeth and causing your discomfort. If that doesn't work, use dental floss. Take OTC pain medications like ibuprofen as needed. Just be sure that if you take aspirin, to not place it directly on the sore area, as that could worsen your pain.
Object Stuck in the Mouth
Attempt to remove the object with dental floss. Whatever you do, do not use a sharp or pointed object like a toothpick, as that may injure your teeth and gums and increase your discomfort.
Whatever your dental emergency is, it's urgent that you call your emergency dentist first thing. It could save your tooth!
About the Author
Dr. Gregory Sopel has nearly 40 years of experience in the dental health field, since graduating from Tufts School of Dental Medicine in 1980. He spent 27 of those years as a member of the United States Army. He and his team take the time to understand each of his patients' needs and smile goals before going through with any treatment. His practice, Horseshoe Bay Dental, is able to schedule same-day appointments when you call with a dental emergency. If you're currently experiencing a dental emergency, you can contact Dr. Sopel at (830) 598-5474.
Comments Off

on Have a Dental Emergency Over the Holidays? Here's What to Do
No Comments
No comments yet.
RSS feed for comments on this post.
Sorry, the comment form is closed at this time.