November 19, 2019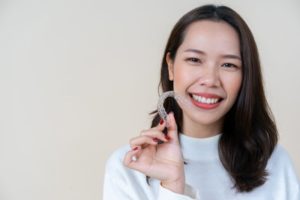 You've had a gap between your two front teeth for as long as you can remember. Additionally, a few of your other teeth are crooked. As a result, you've been self-conscious about your smile for years and years. You want a straighter smile, but you don't want to wear clunky, awkward metal braces. Fortunately, there is another option – ClearCorrect clear aligners near Marble Falls. Read on to learn a few things you need to know about ClearCorrect before starting treatment.
How ClearCorrect Works
ClearCorrect treatment involves your wearing sets of clear plastic aligner trays over your teeth that gradually shift them into a more aligned position over the course of one to two years. Each set of aligners are worn for about three weeks before you must make the switch to a new set. Every set is designed to shift a tiny portion of your smile at a time until the whole thing is beautifully straight.
In order for treatment to work properly and be completed on time, you'll have to wear your aligners for at least 20, if not 22 hours a day. Essentially, you'll only remove them to eat, drink, brush, and floss. Because the aligners are removable, they come with no dietary restrictions. They also should not interfere with your daily life, as they are nearly invisible. No one should have to know you're undergoing orthodontic treatment unless you tell them.
Are You a Good Candidate for ClearCorrect?
ClearCorrect is quite a versatile treatment. It can be used on teenagers and adults to correct a myriad of alignment issues, such as:
Overbite
Underbite
Crowded teeth
Spacing issues between teeth
Crooked or rotated teeth
Benefits of ClearCorrect
ClearCorrect offers multiple advantages over traditional braces, including:
Discreet: While braces stand out in your smile, ClearCorrect aligners are nearly unnoticeable, except when you remove them to eat or conduct oral hygiene.
Removable: As mentioned earlier, there are no dietary restrictions associated with ClearCorrect, because you can take out the aligners when you eat. You can also remove them for special events, like a job interview or a wedding. Just remember to place them back in afterwards!
Convenient: ClearCorrect treatment requires fewer visits to the dentist than braces do, because you don't have to get them tightened every few weeks.
Now that you know a little about ClearCorrect, why not schedule a consultation with your dentist? They can help determine whether ClearCorrect clear aligners near Marble Falls is the right treatment for you.
About the Author
Dr. Gregory R. Sopel has nearly four decades of experience in the oral healthcare field. He graduated from Tufts School of Dental Medicine in 1980. Currently, he practices at Horseshoe Bay Dental in Horseshoe Bay, TX. His practice offers ClearCorrect aligners to help straighten out your smile. If you're interested, schedule a consultation by contacting Dr. Sopel's office at (830) 598-5474.
Comments Off

on What You Need to Know About ClearCorrect Before Treatment
No Comments
No comments yet.
RSS feed for comments on this post.
Sorry, the comment form is closed at this time.