September 20, 2019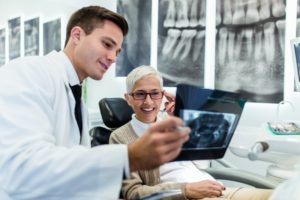 Dental implants in Horseshoe Bay are one of the most advanced restorative treatments. They replace the entire structure of missing teeth and prevent a variety of oral health problems from occurring in the future. Patients have countless benefits to reap from getting this procedure, but most people don't feel comfortable making a decision until they're well-informed. Here are four common questions about dental implants that have been answered to help you find out if this treatment is right for you. <
Do I Really Need to Replace My Missing Teeth?
Each of your natural teeth has roots that are attached to your jawbone and promote proper blood flow and stimulate your oral tissues. When one of them goes missing, there's no longer anything interacting with the bone, so it will slowly deteriorate over time.
Along with declining oral health, missing teeth make it difficult to do basic daily tasks like chew food and pronounce certain sounds. Over time, this will begin to impact your self-esteem. Because there will be gaps in your smile, your other teeth will begin to drift out of alignment to try to fill them in as well. So yes, replacing missing teeth plays a vital role in keeping your mouth healthy.
How Long Do Dental Implants Last?
One of the best benefits of getting implant-retained restorations is that they are the longest-lasting solution. Even though their up-front cost is the highest, patients are actually able to save time, money, and additional dental appointments in the long run. With proper care, they can last over three decades. This is possible because they're made using the highest quality of materials like titanium, that are known to hold up against the toughest elements.
What Benefits Do Dental Implants Offer That Traditional Restorations Don't?
Dental implants offer countless benefits that make the investment well worth it for most patients. They're the closest restorative solution to your natural teeth because they replace the entire structure of your tooth. This allows them to look and feel completely natural. Plus, because they're securely anchored to your jaw, more of your biting force will be restored, allowing you to eat foods like steak without worrying about your dentures shifting.
With traditional restorations, patients can expect to visit their dentist to have them replaced every seven to 10 years. But with dental implants, all they'll need to do is attend regular checkups and cleanings every six months like normal to ensure they're healthy and stable.
How Much Do Implants Cost?
Just like everybody's mouth is different, every patient's treatment plan will vary. That's why there's no default cost of getting dental implants. Several factors play into the price, such as how many teeth you need to have replaced, what kind of restoration you need, and whether you need preparatory procedures like a bone graft. To find out the exact price, you can schedule a consultation with your dentist. They can answer all of these questions and provide you with a timeline of the process.
Patients and professionals will agree that dental implants are well worth the time and money. They're not just an investment in an aesthetically pleasing grin, but also in an improved quality of life. Now that most of your questions are answered, you can schedule an initial consultation with your dentist to get your journey started.
About the Author
Dr. Gregory Sopel has four decades of experience in dentistry. He is passionate about improving his patients' smiles by restoring with their smile with the solution that best fits their lifestyle. He is committed to lifelong learning and is always interested in sharpening his skills utilizing the latest technology and treatments that the dental field has to offer. For questions or to schedule a consultation to learn more about dental implants, visit Horseshoe Bay Dental's website or call 830-598-5474.
Comments Off

on 4 Questions to Help You Consider Whether Dental Implants are Right For You
No Comments
No comments yet.
RSS feed for comments on this post.
Sorry, the comment form is closed at this time.